Medical keyboards
For keyboards in medical use, we offer you the high-quality input devices from CTI Electronics, because reliability and resistance are important.
The devices are dust- and waterproof. You can get these keyboards at ALDERS as single instrument or in combination with a trackball or joystick.
Fields of application for the end devices from CTI Electronics are, for example, in medicine, aerospace technology or the military.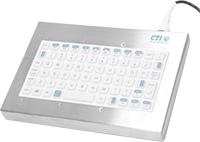 Medical keyboard
Housing: stainless steel
Protection category IP66 (NEMA4x)
Temperature range -40°C to +80°C
2mm key drop with tactile feedback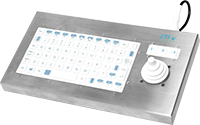 Medical keyboard & mouse
Housing: stainless steel
Protection category IP66 (NEMA4x)
Temperature range -40°C to +80°C
2mm key drop with tactile feedback