Sealing boots for switches and pushbuttons for many different application areas
At ALDERS we supply sealing boots for different switches and pushbuttons including aviation and military applications. From experience and as a sales partner we rely on the sealing boots by APM HEXSEAL.
Switches and pushbuttons are often exposed to a much higher load that you would at first think. However, depending on the area of application it can happen that the switches and pushbuttons are exposed to, for example, water high humidity, acid, dust or other soiling. Then it is recommended that these are protected by special sealing boots.
You can purchase the protective sealing boots for switches and pushbuttons to protect against:
water and moisture
acid
dirt
dust
We have sealing boots in various colours and sizes in our product range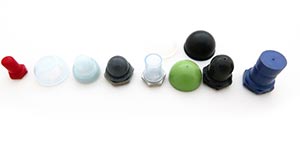 different sealing materials for various media (air, water, gas, oil, petrol etc.)
different temperature ranges
different dimensions for various applications