Encoders measure angles, positions and paths of machines and vehicles reliably
Encoders or also rotary encoders are based on the same principle as potentiometers. With a rotate motion they measure angles, positions and paths. In contrast to potentiometers, the encoders deliver digital output signals that are converted into electrical signals. There are incremental and absolute encoders to record changes to angles and determine positions. Incremental (rotary) encoders measure angular values using periodic patterns. They are available in two versions; with a magnetic or with an optical scanner. Encoders with optical scanners have a rotatable code disc with line-shaped holes. These are illuminated by an LED. A so-called optoelectronic element converts the light into an electrical signal.
A light-dark signal is created due to the holes. The pattern that this creates looks like a sinus curve due to the rotation of the code disc. Each angle of an object is determined by a field factor using encoders with magnetic scanners. The factors are converted into incremental signals by the sensor.
Absolute rotary encoders report the precise position compared to the incremental encoders. They deliver these immediately after switching the machine and also after a power failure. Here the scanning is also performed magnetically or optically. Absolute rotary encoders provide a decisive advantage compared to incremental encoders when used in machine tools, such as CNC milling machines.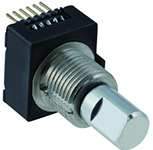 Optischer Encoder
IP40
5VDC @ 30mA; 3,3VDC @ 24mA
Bis zu 3 Millionen Lebenszyklen
2 Bit Binary
6 oder 8 PPR
0, 24 oder 32 Rasten
360° Rotation
Anpassbare Eigenschaften auf Nachfrage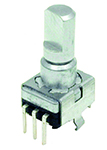 Mechanischer Encoder
12VDC @ 10mA
50.000 Lebenszyklen (bis zu 100.000 auf Kundenwunsch)
2 Bit Binary
20 Rasten
360° Rotation
Anpassbare Eigenschaften auf Nachfrage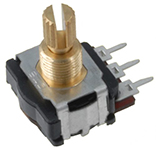 Mechanical encoder
20VDC @ 5mA
50,000 life cycles (up to 100,000 on customer request)
2 bit binary/4 bit gray/4 bit hex
16 detents
360° rotation
Customizable features on request