Rotary position sensors
For rotary position encoders, we rely on our partner CTS Electrocomponents. The precision and durability of this manufacturer's components have proven themselves over many years and offer the highest reliability as well as accuracy, and that is exactly what matters. From our premium partner CTS we distribute an acceleration module, which can be installed in mobility aids and small vehicles, and a rotary position sensor, which is used in engines as a throttle sensor or as a protractor and is characterized by the following features:
high robustness and long service life
very resistant to the penetration of liquids
compact design
Rotary position gauges with high quality and reliability – trust ALDERS
Our premium partner CTS has more than 120 years of experience in the development of electromechanical components, as the company was founded as early as 1896. From the very beginning, the manufacturer has followed the principle of recognizing trends early on and being able to deliver technological solutions quickly. The company is divided into two operating divisions, CTS Automotive Products and CTS Electrocomponents, and has production and development facilities at more than ten locations in eight countries. They produce for the automotive, telecommunications, military technology, high-frequency technology and medical technology sectors.
0.8 watts
2 million life cycles
5k Ohm
40% tolerance
JIS D0203 standard
JIS D0207 F2 standard
Customizable features on request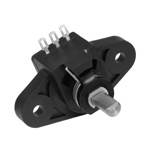 0,2 Watt
IP64
2 million life cycles
5k Ohm
10%/20% tolerance
Mechanical rotation: 60°; Effective rotation: 45°.
Customizable features on request
Rotary position sensors from CTS Electrocomponents for many applications
At ALDERS we cooperate with CTS Electrocomponents, which is the business unit responsible for electronic components and modules. We mainly distribute the rotary position sensors, acceleration modules as well as potentiometers, which are of high quality and can withstand several million switching cycles. We at ALDERS maintain a close and trustful business relationship with our premium partner CTS, so we know the production method and the components such as rotary position sensors and other position sensors very well. Therefore, we can give you the best advice on the products and customer-specific adaptations.
Just give us a call or send us an e-mail and we will be happy to answer all your questions.