Electromechanical components for the defense industry at ALDERS
High-quality control handles, counters, trackballs, key switches and more
Heavy and resilient vehicles are used in defense industry, but also surveillance technologies or IT security instruments. ALDERS supplies reliable indicators, rocker switches, control handles or keyboards for these diverse requirement areas. No matter what components you need, you can rely on our products. Our dependable components withstand even the toughest conditions. Our dust-tight and waterproof components are used, for example, in the control or operational monitoring of military vehicles. Quality is our top priority, which is why our product range consists only of articles that guarantee durability and functionality.
In order to meet our own requirements, we work together with well-known manufacturers. We supply electromechanical components from suppliers such as L-3 Communications, CTI Electronics or EHC Knobs. In the military in particular, it is important that equipment can withstand stress and function reliably even in adverse environments. Accurate and precise control is essential. Together with our partners, we deliver exactly the parts you need and can rely on at any time.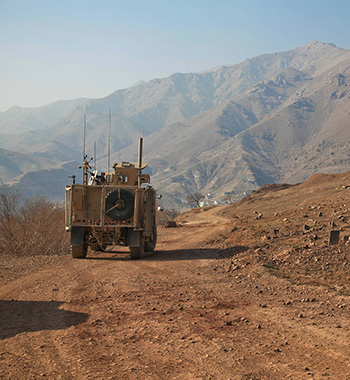 Indicators, rocker switches and control handles for defense industry
Mechanical components for the defense industry
Military vehicles are often exposed to harsh conditions. Uneven terrain, dirt, dust, water as well as shocks, blows or vibrations are among the common strains which they must withstand. Accordingly, it is of enormous importance for the technology used to always guarantee reliable functionality in this initial situations. Large tracked vehicles and other military vehicles appear very cumbersome from the outside, but precise control elements are required to maneuver them confidently through impassable terrain. Together with our sales partner CTI Electronics we offer you control handles, keyboards or trackballs that provide an exact interface between man and machine for this purpose.
Equally important is the monitoring of electronic instruments. L-3 Communications produces high quality hour meters and indicators. With these, you can keep an eye on the service life of your drives and engines and know exactly when maintenance appointments need to be taken. This ensures the constant and reliable use of vehicles.
Whether rocker or key switches, buttons, control handles and other operating elements as well as LEDs or indicators, we from ALDERS supply you with high-quality electromechanical components for the defense industry. If you have any questions about our individual products, we will be happy to provide you with a competent contact person.