Electromechanical components for safety technology in industry
Keylock switches, buttons, inductive components and more of best quality
Security plays a central role for both large and small industrial companies. Loss of work and production due to fires, break-ins or vandalism can damage your business and your image. ALDERS supplies high-quality electromechanical components for the technology used in fire alarm, alarm systems or smoke and heat vent systems as well as for door controls, one-hand door guards and escape route lighting. From surge protection components and inductive components to key-operated switches, buttons or sensors to printed circuit board components, we offer you reliable products that are used in the security technology of industrial buildings.
At ALDERS we rely on a solid network. In the course of our long company history, we have built up an extensive sales network which we use to provide first-class products. As a manufacturer in the field of industrial security, you can rely on our premium partners such as OTTO Controls, NKK Switches, World Products or Cambion. We create beneficial connections. Trust in our suppliers and experience with electromechanical components. Take advantage of our know-how.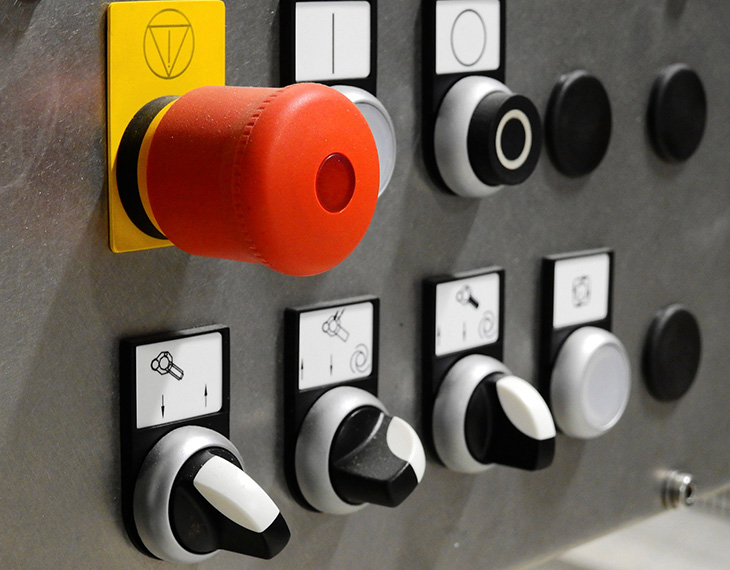 Keylook switches, inductive components or printed circuit board components for reliability in industrial technology
Safety systems with perfect components
Precise safety solutions offer protection for employees in industry as well as against absenteeism and the associated financial losses. Reliability is the be-all and end-all. For this reason, safety systems should meet the highest quality standards. Components that you receive from our sales network meet these requirements.
We obtain rotary, rocker or keylook switches from OTTO Controls or NKK Switches. Even after numerous switching operations, the products of these companies continue to deliver reliable results.
Printed circuit board components and inductive components come from our partner Cambion. The manufacturing of costumized products as well as large series production are what the British company specialises in.
In the field of components for surge protection, we are at your side with articles from World Products. The company has focused on this area of production in particular.
The suppliers presented here are among our premium partners with whom we have been working successfully for many years. We at ALDERS are well aware of the properties of our products and trust in the quality that our partner companies deliver. We are happy to pass this trust on to you. Please contact us for further information. Let our competent team advise you on our individual product groups and the industries we serve.