Panel seals for rocker switches and pushbuttons by OTTO Controls
So that not only the rocker switches and pushbuttons by OTTO Controls, but also the panel is protected against dust, water and chemicals, we offer you the corresponding panel seals. OTTO Controls from the USA also manufactures rocker switches in different series with different functions. For the series K1 to K3 you can purchase seals that OTTO Controls has produced specifically for these switches. Likewise the manufacturer produces seals for the toggle switches and pushbuttons.
Should you have any questions regarding the panel seals by OTTO Controls, please contact us. We will gladly provide you with detailed information and advise you on the appropriate product.
We supply panel seals
for the OTTO Controls pushbuttons HP7, LP9, P7-D and P9 series
for toggle switches by OTTO Controls of the series T3, T7, T9, TE
for rocker switches of the K1, K2 and K3 series
made of neoprene or EPDM rubber
High-grade and robust panel seals for rocker switches and more
Rocker switches, toggle switches and pushbutton switches are often used in application areas where high loads prevail so that they have to be very robust and reliable. You can always rely on the high quality and reliability of OTTO Controls. The switches and pushbuttons are installed in machine panels or other control units. So-called panel seals are sued so that the panels are sealed after the switches are installed and protected against humidity and dust. These seals are installed between the switches or pushbuttons and the panel. The panels are made of neoprene material or an EPDM rubber that are very robust and durable. The rocker switches by OTTO Controls are precision switches and you can be sure of their reliability. The switches of the manufacturers are very reliable. The K series of rocker switches is very robust and highly effective and corresponds of protection category IP68, which means that the switches are extremely waterproof. The manufacturer's toggle switches and the pushbuttons are also designed for applications where the electronic and electromechanic are exposed to adverse conditions and extreme influences such as water, dust and chemicals. OTTO Controls has many years of experience in manufacturing switches, pushbuttons and controls for high demand applications.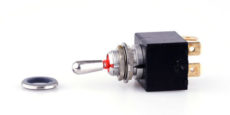 Black-Silver
For OTTO T3, T7, T9, TE -series and toggle switches with M12 and 15/32 UNF thread
Seal panels reliably with toggle switches and pushbuttons
It is important to protect rocker switches, toggle switches or pushbuttons against humidity or dirt, still these measures do not adequately protect the sensitive electronics, such as wire and circuit boards. Should you already use rocker switches and toggle switches by OTTO Controls, then it is possible to install the panel seals retroactively. The switches and pushbuttons have a snap-in function so that they can be easily removed and re-attached. Take advantage of the original panel seals by OTTO Controls and protect your electronics. At ALDERS we have worked with OTTO Controls since the founding of our company over 30 years ago. The manufacturer enjoys an excellent reputation also throughout the world and our complete trust. Our customers come from the fields of aviation and aerospace, naval technology, military technology, medical technology and the construction and agricultural machine technology. In all these areas, the smallest mechanical components have large effects. Precision and reliable are very important properties here that the products by OTTO Controls fulfil without fail.