5G / 4G LTE / 3G Cellular
3G, 4G and 5G are generations of mobile communications standards. The fastest current standard is LTE (Long Term Evolution) technology of the fourth generation (4G).
The 5G radio cells are currently being expanded in cities and will sooner or later replace the 4G standard.
In the cellular frequency range, we offer models that can be operated both integrated and outside the device.
In the 5G / 4G LTE and 3G range, we offer embedded, panel mount, whop, stubby and high gain access point variants. Panel Mount are industrial antennas with high performance and low profile. They are extremely efficient due to their compact size. They can be configured with different cable / connector types and lengths.
High Gain Access Points are available from us in various connection and mounting styles.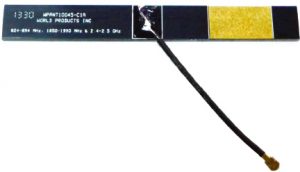 Style: Surface Mount with Adhesive
Frequency: 824 – 894 MHz, 1850 – 1990 MHz & 2.4 – 2.5 GHz
Peak Gain: 0.5 dBi (850 MHz), 2 dBi (1900 MHz) & 2 dBi (2.45 GHz)
DIMENSIONS: 84.6mm x 10.2mm x 1.6mm
Standard Cable: 1.13mm OD Coax
Standard Connector: IPX / Hirose equivalent
Different cable and connector requests can be accommodated

Style: Micro-Hepta (Board Mount)
Frequency: 824 – 960 MHz, 1567 – 1583 MHz, 1710 – 2170 MHz & 2.4 – 2.5 GHz
Peak Gain: 2 dBi (890 MHz), 1 dBi (1575 MHz), 2.5 dBi (1940 MHz), 4 dBi (2.45 GHz)
DIMENSIONS: 1.5″ x 0.67″ x 0.5″

Style: SMT Embedded
Frequency: 824 – 960 MHz & 1710 – 2170 MHz
Peak Gain: 1.5 dBi (915 MHz) & 2.5 dBi (1900 MHz)
DIMENSIONS: 1.7″ x 0.47″ x 0.138″