UHF / VHF / NFC
The UHF (Ultra High Frequency) range is a crucial frequency range and suitable for almost all radio technologies. It has the advantage that the bandwidth of the channels can be large, as is required for television, for example.
The UHF band is used for mobile television and digital radio (DAB), for mobile networks such as UMTS, GSM, Long Term Evolution (LTE) and the new mobile standard 5G (5th generation), for professional mobile radio and cordless telephony and, above all, for WLANs according to IEEE 802.11, for Bluetooth, ZigBee and RFID. We also offer various antenna solutions for UHF as internal components or for indoor and outdoor use.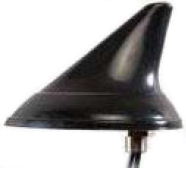 Style: Automotive, Body-Mount
Frequency: 88 – 108 MHz, 824 – 960 MHz, 1567 – 1583 MHz, 1710 – 1990 MHz
Peak Gain: 2 dBi (98 MHz), 2 dBi (900 MHz), 28 dBi (1575 MHz), 2 dBi (1850 MHz)
DIMENSIONS: 3.6″ (Height) x 2.44″ (Base Dia)
Standard Cable: RG174
Standard Connector: SMA Male
Different cable and connector requests can be accommodated.